Welcome to the Bun Undone Self-Care Society! ™
Whether you choose to purchase the e-book or journals, this safe space and community is here for you. I created this program and practice after going through my own post-break up personal healing journey. After experiencing shifts in self-love, I decided to compile them all in one place, for all of us to connect, release, feel, heal and grow together. Since it's inception, the offerings have grown but the meaning remains true: this is always here for you. I can't wait to share this special piece of my heart with you. Welcome home, this is just the beginning.
JOIN THE MEMBERSHIP PLATFORM
The $25 monthly subscription gives you:
Access to every 5-week program (as long as membership subscription status is active)
Check-ins and 1 event per month (and a major discount for any additional events during active rounds)
POWERFUL and beautiful community. Our little safe space on the internet.
VIP access to special events, announcements and more.
Daily check-ins, journal prompts, self-care, spiritual guidance, wellness tips, weekly inspiration and resources from experts. I'll be publishing videos and sharing content consistently.
1:1 access to me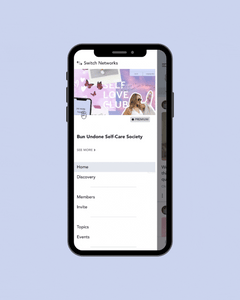 Testimonials
Wow! Self-Care Society has impacted every single part of my life. Myself, my family, my interactions, my mental health, my productivity, my energy ... I could go on and on!

Erika
It's been a privilege to be apart of this community in a variety of forms and stages. I have found the more you put in the more you receive and it will benefit your journey in the way it is meant to. Though no matter what it is an amazing group of people who are willing to support, listen, encourage and discuss any and every topic to help you become a better you and hold you accountable. I have gained so much advice and insight from every person and their stories they have graciously shared. I truly feel apart of something so beautiful and love everyone I have connected with.

Samantha
Words can't describe how much Self Care Society has impacted my life - From the connection to the women in the community, to allowing myself to open up and be vulnerable, to the moments of pure joy and laughter in the everyday conversations with these women. Morgan has created a community that has brought women together and provided a space to truly be ourselves while also providing a space open up and feel 100% supported.

Amy L
SCS And Morgan although I have not met Morgan IRL I feel like I am connected to her and all the wonderful woman in the group. Very none judgement zone and three years later I still am apart of SCS says something about this community!! Thank you Morgan for making this community what it is! ❤️

Anonymous
Self-care society created a constant reminder and inspiration to treat myself with more compassion and kindness. Having a group of ladies with similar intentions to check in with was so inspiring and supportive! I can't wait to do another round and apply myself even more to the weekly intentions. I got something positive out of this experience no matter what my level of engagement was each week. Couldn't recommend this more to anyone looking to make their life more beautiful!

Amy S
I am so HAPPY that I invested in this. My friends told me that I had a glow and that I looked great - and this is all virtual, don't forget that - on top of EVERYTHING... gained a "tribe" of sorts - a female empowerment group that supports each other and gives each other the exact advice and honesty that we all deserve. No judgment, just going through the journey one step at a time. And honestly, our weekly check-ins are something I 100% look forward to and just schedule things around because they're THAT inspiring!

- Nikita
Self Care Society has changed my life! This community has become my sisters and I am so grateful for them. Morgan is an amazing and inspiring leader. I've learned many tools for self care that I can use in all areas of my life. I grow so much after each round. I can't wait for more!

Kylie
Four years ago I was lost. I didn't know how to reach out for help and support and I didn't know what the next step was for me. When I stumbled across Self-Care Society in 2021, the stars must have been aligned as I had also just started my self-healing journey. These women have become some of my best friends! I was able to stop going to therapy a year ago because I was finally in a good place and having this community to wake up to everyday helps me continue the self-work. I learn something new about myself everyday! If you want lifetime friendship, support, love and tons of laughter in your life, please join this group! You won't regret it ♥️

Michaela
This is exactly what I was missing in my life and couldn't be more grateful that I found it.

Jessie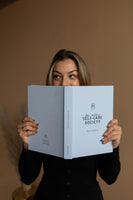 Join me! Follow on Social
Engage with the community by following @selfcaresociety_ @bun_undone and using #bunundoneSCS
FOLLOW